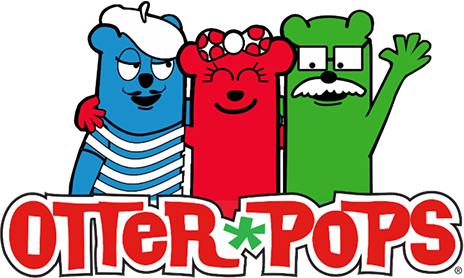 Otter Pops have been making people smile since 1970, and that's refreshing. So is their great taste!
Whether you're at a music festival, on the beach, or chillin' with family & friends, Otter Pops serve up good vibes year-round and add a little "character" to your day.
The iconic characters that represent each ice pop flavor, including Strawberry Short Kook, Sir Isaac Lime, Little Orphan Orange, Poncho Punch, Alexander the Grape, Louie-Bloo Raspberry, Major Mango, Cosmic Coconut, Anita Fruit Punch, and DJ Tropicool, are one-of-a-kind frozen treats for people of all ages to enjoy!
Giving Back
For many of us, few things are more important than helping others.  Especially when it comes to helping children who are battling cancer.  That's why The Jel Sert Company teamed up with the American Childhood Cancer Organization to create Take a Pop, Share a Smile, a special program that donates freezers filled with an unlimited supply of Otter Pops to childhood cancer treatment centers across the country.
Sometimes, an Otter Pop can bring a smile and hydration to a child undergoing cancer treatment while spending long hours in a hospital.  Take A Pop Share A Smile has donated over 130 freezers to date, but we're not stopping there.
Our hope is to do more, and perhaps you can help.  If you know of a childhood cancer treatment center that would be interested in receiving a Take A Pop, Share A Smile freezer, please let us know and we will see to it that the children there receive one.  Thank you.